BT pledges better broadband for UK
BT has hit back at rivals calling for its break-up, with a strategy to make the UK the fastest broadband nation.
It revealed plans to connect 10 million homes to ultrafast broadband by the end of 2020 and raise the minimum broadband speed for homes that cannot get fibre to 5-10Mbps (megabits per second).
It comes in a week when rivals have denounced the quality of UK broadband.
In a letter to the Financial Times on Monday, they said BT should be split.
Sky, Vodafone and TalkTalk were among signatories to the letter which claimed that millions of customers currently have a "substandard" broadband service.
The letter said it was time for "radical reform" and called on Ofcom to ask the Competition and Markets Authority to undertake a full market investigation of BT.
Ofcom is in the process of considering whether BT Openreach, which runs the telecoms network, should be separated from the rest of the firm.
"Ofcom is conducting the most fundamental review of the communications market in a decade, and has identified serious problems with the ownership of the national telecoms network by BT Openreach," the letter reads.
"These include a conflict of interest in the role of BT, poor quality of customer service and difficulties in enforcing the existing regulatory regime. The result is a substandard experience for millions of customers and diminished opportunity for alternative providers to compete effectively."
Minimum speeds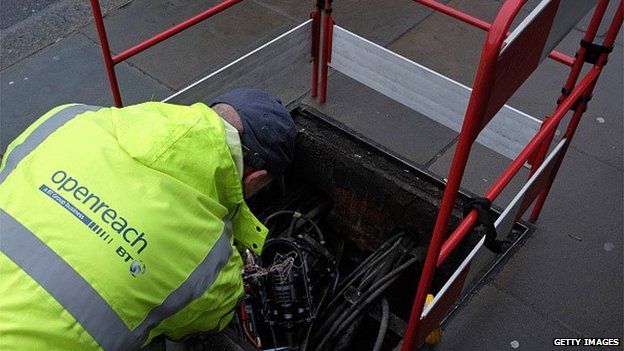 Hitting back at critics, BT's chief executive Gavin Patterson said his firm could cement the UK as the G20's leading digital economy.
Among its plans were:
Aim for a new universal minimum broadband speed of 5-10Mbps
Plan to extend fibre broadband beyond government's 95% of premises target
10 million premises to receive speeds of between 300-500Mbps by end of 2020, with 1Gbps also provided
Co-funding of more community broadband schemes
Openreach to increase on-time customer installations
Aim to improve customer service with text progress updates and engineer's mobile phone number
"We want to forge an ultrafast future for Britain and stand ready to help government deliver the broadband speeds necessary for every property to enjoy modern day internet services, such as high definition TV streaming and cloud computing," he said.
Ofcom has just published its latest data on the volume of consumer complaints among broadband providers.
Although BT saw its complaints fall, it still generated more than the industry average.
Sky had the smallest number of complaints, followed by Virgin Media.
EE generated the most complaints for broadband while TalkTalk's complaint volume increased.
Plusnet also saw a reduction in its complaint volumes but also had more than the industry average.
"It's important that BT is looking to help address the growing needs of broadband users who rely on its network, and we welcome the company's commitment to provide ultrafast broadband to 10 million premises," said a spokesman for Ofcom.
"We look forward to discussing BT's proposals in more detail, including its commitments on Openreach's performance – something Ofcom has been clear must continue to improve."
iPhone 6s is here.
iPhone 6S release date, price & new features UK: Apple unveils iPhone 6S & 6S Plus with new Rose Gold colour and 3D Touch
Apple has used a busy, action-packed event in San Francisco to show off its new iPhone 6S with 3D Touch display and new Rose Gold model.
iPhone 6S release date UK: When is the new iPhone coming out?
Following its 9 September launch, you'll be able to pre-order the iPhone 6S and iPhone 6S on Saturday 12 September (that's this Saturday!) from 8:01am, and it'll be in stores from 25 September in 12 countries including the UK. It'll be in 130 countries by the end of the year.
iPhone 6S price UK: How much will the new iPhone cost?
The iPhone 6S will start at £539, while the iPhone 6S Plus starts at £619. Breaking that down further:
iPhone 6S 16GB: £539
iPhone 6S 64GB: £619
iPhone 6S 128GB: £699
iPhone 6S Plus 16GB: £619
iPhone 6S Plus 64GB: £699
iPhone 6S Plus 128GB: £789
iPhone 6S: Design and build
As suspected, the iPhone 6S and iPhone 6S Plus have the same screen sizes as their predecessors, with the 6S offering a 4.7in Retina display and the iPhone 6S Plus offering 5.5in.
New to this new generation of iPhone, though, is the Rose Gold model, which adds to the Gold, Silver and Space Grey already available. The new Rose Gold matches the new aluminium Rose Gold Apple Watch, too.
Each model is made with the same aluminium as the Apple Watch, called Series 7000 Aluminium, which is designed to be more durable (and hopefully prevent a repeat of Bendgate!)
iPhone 6S new features: 3D Touch
Apple has introduced a brand-new screen technology called 3D Touch, which lets you 'Peek' by pressing lightly, or 'Pop' by pressing harder.
For example, if you're browsing through your emails and see one you think might be interesting, you can 'Peek' to see what it says and if you don't fancy responding right now you can let go to go right back to your emails without pressing back. But if you do want to reply, you can click harder to 'Pop' to the email, as shown above.
Another example given by Apple is links. If someone sends you a link via iMessage or any other application, you can Peek at it by pressing lightly to see what's on that web page. Let go and you'll be right back in the app the link was sent to you in. And if you want to fully open the page in Safari, you can press harder to Pop into it.
Other uses include viewing photos you've just taken within the Camera app, taking a Peek at locations within the Maps app by lightly pressing on an address and more.
App icons now become shortcuts that let you choose exactly where in that app you want to go, a new feature tha Apple calls Quick Actions. You can press on the Camera icon to take a selfie. And you can press on the Facebook icon to quickly update your status or check-in without opening the app.
If you want to call one of your favourite contacts you can press the Phone button (rather than tap it), or press the Maps button to get directions home, mark your location, send your location or search nearby.
Multitasking is easier than ever with 3D Touch, too. You can press on the screen and swipe to scroll through the apps you've got open, rather than double clicking the Home button.
3D Touch works with a taptic engine for haptic feedback you can feel, just like the Apple Watch and the trackpad on the new MacBooks.
That's only the tip of the 3D Touch iceberg, particularly as third-party developers begin introducing the technology into their apps, too.
iPhone 6S specs and hardware
Inside the new iPhone 6S is the new 64-bit A9 chip, as predicted. That chip is 70% faster than the A8, and 90% faster when it comes to graphics performance. We're looking forward to running our benchmark tests on the new iPhone to find out how it compares with rivals.
That A9 chip is paired with an M9 motion co-processor that collects health and fitness data to help the A9 run more efficiently and concentrate on other tasks.
There's also a second-generation Touch ID fingerprint sensor that's up to two times faster.
Just like the iPhone 6 and iPhone 6 Plus, the new models are available in 16GB, 64GB and 128GB configurations.
Connectivity has been improved too. There's now LTE Advanced and faster WiFi.
iPhone 6S camera
The iPhone 6S has a 12Mp iSight camera, which is lower than many of the rumours, but it has more focus pixels for more better auto focus and it has new tech called deep trench isolation for accurate colour. As always with iPhones, we expect it'll be amazing.
Plus, the iPhone 6S and 6S Plus's camera is capable of capturing 4K video.
There's a 5Mp front-facing camera, too, and the entire display can be used as a front-facing flash.
Queen's Speech: New monitoring powers 'to tackle terrorism'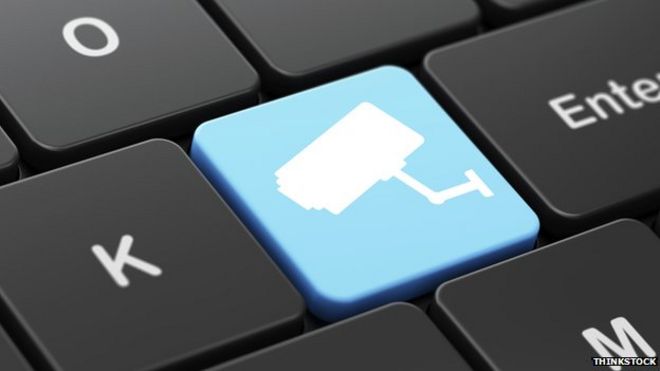 New laws to give police and spies greater powers to monitor internet and phone use are in the Queen's Speech.
Downing Street said that measures in the Investigatory Powers Bill would provide the authorities "with the tools to keep you and your family safe".
It will "address gaps" in intelligence gathering and access to communications data which is putting "lives at risk".
But civil liberties campaigners claim it will pave the way for mass surveillance of UK citizens.
Home Secretary Theresa May's efforts to introduce a similar bill in 2012, dubbed the "snooper's charter" by critics, were blocked by the Liberal Democrats.
British jihadists
The new bill is designed to "maintain the ability of intelligence agencies and law enforcement to target the online communications of terrorists, paedophiles and other serious criminals".
Details of how it will work will be published in the next few days.
It is thought likely to require internet service providers and mobile operators to log much more data about what their customers are doing, including data on who people call, text, tweet and instant message, what games they play, when they post on social networks and who they send webmails.
The government has come under growing pressure to do more to respond to the fallout from the conflicts in Iraq and Syria and, specifically, the threat posed by British jihadists returning to the UK after fighting in the two countries.
The police have long argued that their ability to track the online communications of potential suspects is heavily circumscribed and the the law is not keeping pace with advances in technology.
But civil liberties campaigners fear it will lead to mass surveillance.

Analysis by BBC Home Affairs Correspondent Daniel Sandford
Essentially the government wants to upgrade the law so that is can do all the things it used to do with the post and telephones with all the plethora of online communications that now exist.
A review by the "Independent Reviewer of Terrorism Legislation" David Anderson QC will feed into this.
The Bill will be very controversial. It is strongly opposed by many Liberals, and civil liberties groups, and the idea became even more controversial after the Edward Snowden revelations.

Jim Killock, executive director of The Open Rights Group, said: "The government is signalling that it wants to press ahead with increased powers of data collection and retention for the police and GCHQ, spying on everyone, whether suspected of a crime or not.
"This is the return of the 'snooper's charter', even as the ability to collect and retain data gets less and less workable.
"We should expect attacks on encryption, which protects all our security. Data collection will create vast and unnecessary expense."
Renate Samson, chief executive of Big Brother Watch, said: "Whilst the title may have changed from a Communications Data Bill to an Investigatory Powers Bill it will be interesting to see whether the content has radically changed.
"We have yet to see real evidence that there is a gap in the capability of law enforcement or the agencies' ability to gain access to our communications data."
The Investigatory Powers Bill is one of 26 proposed laws included in the first all-Conservative Queen's Speech since 1996.
The Conservatives are also proposing new steps to tackle extremism, including giving the home secretary new powers to ban extremist groups and allowing the authorities to close down premises being used to "support extremism".
It will also include more powers for watchdog Ofcom to take action against TV channels that "broadcast extremist content".
Downing Street said there would be "appropriate safeguards and oversight arrangements" and it would take into account a yet unpublished review of existing counter-terrorism legislation undertaken by the independent reviewer David Anderson.
PayPal penalised for 'deceptive' practices
The online payment service PayPal has agreed to pay $25m (£16.1m) of fines and compensation in the US after being accused of deceiving its customers.
A government watchdog denounced the company for adding new members to a credit-card-like scheme without making them aware of the fact.
It also said PayPal had mishandled bill disputes, among other offences.
The eBay-owned company has offered to settle the case, without admitting wrongdoing.
A judge needs to approve the agreement for it to become legally binding.
Default option
PayPal Credit is a delayed payment scheme, which allows users to spread out bills over several months, paying a monthly interest rate for the privilege. Members face additional fees if any of their payments are overdue.
PayPal is accused of making the service the default option for new sign-ups without making clear that it was doing so.
"Tens of thousands of consumers who were attempting to enrol in a regular PayPal account or make an online purchase were signed up for the credit product without realising it," said Richard Cordray, director of the US Consumer Financial Protection Bureau.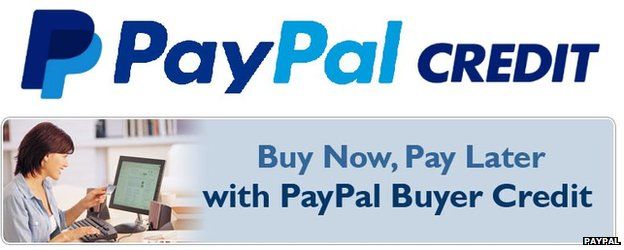 He added that some customers had discovered the fact only after being charged for late fees or having received debt-collection calls.
In addition, the company is accused of failing to provide up to $10 worth of credit towards purchases, as promised in its adverts.
"PayPal [also] failed to post payments properly, lost payment checks and mishandled billing disputes that consumers had with merchants or the company itself," Mr Cordray added.
The proposed settlement states that the company will set up a $15m fund to compensate affected customers and pay a further $10m fine to the bureau.
"PayPal Credit takes consumer protection very seriously,' the California-based company said in a statement.
"Our focus is on ease of use, clarity and providing high-quality products that are useful to consumers and are in compliance with applicable laws."
PayPal Credit is also offered to users outside the US,
A spokeswoman for the UK's Financial Conduct Authority said she was unable to comment on whether or not it was carrying out an investigation of its own.
However, PayPal said it did not expect a follow-up probe.
"UK members have not been affected by the issues raised in connection with this CFPB investigation," a spokeswoman for the firm told the BBC.
This is the second time PayPal has been penalised by the US government in recent months.
In March, it agreed to pay $7.7m to the US Treasury following claims it had allowed payments that violated sanctions against Iran, Cuba and Sudan.
Wearable tech lets boss track your work, rest and play
How will our lives change as more and more firms digitally monitor their employees' movements and health, at work and beyond. We're about to find out
SOME jobs come with a uniform. For an increasing number of employees, that uniform will soon include a badge that tracks everything they do.
Many companies – including BP, eBay and Buffer – already encourage employees to wear activity trackers like the Fitbit, often in exchange for discounts on health insurance. Last month, California-based Misfit, which makes a sleep and fitness monitor called Shine, announced that it is teaming up with Coca-Cola as part of the drink-maker's employee well-being programme. Several professional sports teams even monitor their athletes' sleep habits (see "Sleep hard, play hard").
In cases like these, wearables are designed to boost the health and general productivity of the employees, sometimes encouraging them to compete against one another online. That makes sense: a healthier workforce saves a company money in the long run. But elsewhere, such wearables are being used to monitor exactly how employees work.
At the warehouses of UK-based supermarket chain Tesco, for example, workers wear armbands that track where they go, ostensibly so they can be sent location-specific tasks. At Capriotti's Sandwich Shop in Las Vegas, new recruits record their work with Google Glass for managers to assess later. Virgin Atlantic has plans to do the same.
"It is amplified intelligence," says Bill Briggs, chief technology officer at Deloitte consultants in Kansas City, Missouri. "Sooner or later, the 'digital exhaust' of everything is going to be available. It's just a matter of who can take advantage of it within the right ethical bounds," he says.
But does monitoring your employees with wearable tech actually boost their productivity? There's little research to show that it does, although Autodesk, a software firm in California, says it saw a "distinct change" in employees' behaviour after more than 1000 signed up to receive Fitbits. The firm found that more people walked to work or held meetings while walking.
At a Bank of America call centre in Rhode Island in 2009, employees wore sensors made by Sociometric Solutions – a spin-off company of the MIT Media Lab – to figure out how co-workers interact. Over six weeks, sensors in the badges recorded where employees went and who they talked to, how the tone of their voice and the movements of their body changed throughout the day. Drawn together, the data provided a unique insight into how the call centre worked. It turned out that workers who were more social were also more productive. In response, Bank of America changed the office structure to encourage employees to chat more with one another. Several European banks now track their employees with the badges.
This year Chris Brauer of Goldsmiths, University of London, asked employees at London media agency Mindshare to wear one of three different activity trackers as they worked: an accelerometer wristband, a portable brainwave monitor or a posture coach. After a month, productivity had risen by 8.5 per cent and job satisfaction by 3.5 per cent overall. Most improvement was seen in employees who wore passive devices that collected data quietly rather than interrupting with ongoing feedback. "People recognise that effectively they're on the clock, that they're being tracked, and as a result they raise their game," says Brauer.
However, Ethan Bernstein at Harvard Business School cautions that such devices could also have the opposite impact, due to what he calls the "transparency paradox". Instead of trying to do the best job, some workers might obsess over hitting their sensor-related targets, making them more likely to cheat and less likely to take potentially useful risks.
Wearables also open up new privacy dilemmas for companies – particularly if they remain on employees after they leave the workplace. US courts have grappled a little with these questions, at least when it comes to more common tracking tools like computer spyware and GPS trackers on company equipment. Several states, including California and Texas, have laws preventing equipment tracking without express consent. But in most places, it's legal for firms to outfit their employees with wearables, as long as they are clear about what is being tracked and why.
"While the monitoring itself may be permissible, the information that you gather could create unforeseen, unintended consequences," warns Joseph Lazzarotti, a lawyer at the firm Jackson Lewis in New Jersey.
No escape
For example, a GPS tracker or wearable that travels with an employee outside of work could help paint a detailed picture of that person's private life, such as whether they spend lots of time in bars. This was also shown in Brauer's study, which found that the devices recorded enough data to make detailed profiles of individual employees: their lifestyle, exercise and sleep habits.
In the future, bosses could rely on such profiles of their employees to make daily decisions depending on who's had a good night's sleep or a sudden burst of productivity, says Brauer. Conversely, people could use their tracker data to put together "biometric CVs" that prove they're particularly well suited to jobs that take place at odd hours or under stressful conditions.
"People are going to have to decide how much of their lives are accessible and available to their work," says Brauer. "What we always thought of as a dichotomy between work and 'life' instead becomes something like a lifestyle."
There need to be rules in place to prevent employers from using this technology to the detriment of employees, says bioethicist Arthur Caplan at New York University. One could imagine a future in which bosses choose who to promote and who to fire based on tracking data, or encourage employees to take mild drugs like melatonin or caffeine to boost their workplace performance.
"I think when you have monitoring capability, the obvious question is: where does your job end and your home life begin?" Caplan says.
This article appeared in print under the headline "Off the clock, on the record"
Sleep hard, play hard
If you sleep better, you play better. That's why some pro basketball teams in the US are now monitoring their players in bed.
The first team to implement sleep-tracking was the Dallas Mavericks, who last year made their players wear a wristband-like smart patch called Readiband that monitors body temperature, movement and heart rate. It also gives players a sleep score at the push of a button.
The idea is that the data lets team coaches see how sleep affects performance. They can then adjust training regimes or travel arrangements to maximise their players' sleep quality. Some American football, soccer and ice hockey teams in the US are also using the system.
How to park your car with a smartwatch
How to park your car with a smartwatch
From a car that can self-park via a smartwatch to a device that allows you access to your car's diagnostic information, BBC Click's Jen Copestake tries some of the newest car technology.
BBC gives children mini-computers in Make it Digital scheme
The BBC will be giving away mini-computers to 11-year-olds across the country as part of its push to make the UK more digital.
One million Micro Bits – a stripped-down computer similar to a Raspberry Pi – will be given to all pupils starting secondary school in the autumn term.
The BBC is also launching a season of coding-based programmes and activities.
It will include a new drama based on Grand Theft Auto and a documentary on Bletchley Park.
Digital visionaries
The initiative is part of a wider push to increase digital skills among young people and help to fill the digital skills gap.
The UK is facing a significant skills shortage, with 1.4 million "digital professionals" estimated to be needed over the next five years.
The BBC is joining a range of organisations including the British Computing Society, BT, Google, Code Club and Young Rewired State to address the shortfall.
At the launch of the Make it Digital initiative in London, director-general Tony Hall explained why the BBC was getting involved.
Cheap 'Apple Watch' copies on sale via Alibaba site
Smartwatches that mirror the look of the Apple Watch's hardware and software are being advertised on China's most popular online shopping service.
Alibaba's Taobao site lists devices branded the AW08 and the iWatch.
They both feature "digital crown" dials on their sides, similar-styled straps and identical user interface graphics to Apple's forthcoming wearable.
However, their listings reveal they run on Google's Android platform rather than Apple's Watch OS.
Customer data stolen in TalkTalk hack attack
TalkTalk customers are being warned about scammers who managed to steal account numbers and names from the company's computers.
In an email sent to every customer, TalkTalk said scammers were using stolen information to trick people into handing over banking details.
TalkTalk said it had sent the email to every customer although only a few thousand account numbers went astray.
How secure is your password ?
"Oh damn! I've forgotten it… again." It's a common phrase of many people when trying to enter their password.
But while there might be a tendency to keep it simple and straightforward, the following list is enough to leave any keyboard wobbling with fear.
Twenty-five of the most common passwords from the 3.3 million leaked online last year have been revealed by SplashData.
The password management firm has been compiling the annual list since 2011.
For the second year running 123456 and password were top of the pile.
Where to Find Us
Visit our store 178 Monton Road, Monton, Manchester M30 9GA.
Our opening hours are: Mon-Fri 9am-5pm. Sat : Please ring for availabilty.
Pay & Display Car park at the rear of the store – 30 Minutes free with ticket from machine.